Buy License
In order to obtain a single user license for OmniValue please complete the online order procedure by clicking on the link at the bottom of this page. For information of other license agreements, please contact Milliplex.
If you already are a registered customer and want to upgrade your license continue here.
Online order is provided by ShareIt and is completely secure. All major credit cards can be used, as well as other payment options.
Delivery
After receiving notice of your payment and of the registration information, Milliplex will generate a key code based on your name and email the key and the name to the email address as provided in the registration information.
Registering your program
After receiving the email from Milliplex go to menu Program->Register... to register your program. Note that the name and key code must be typed in the registration dialog exactly as provided in the email from Milliplex (case sensitive), otherwise the registration will fail. Note also that an active connection to the Internet must be available before the registration is started. An example of a registration dialog is shown below.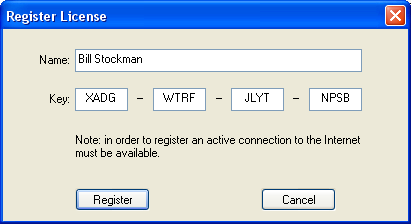 Note: the key code is in upper case letters only.
Online Order