Software for management of financial investments and savings

OmniValue 4.0 for Finance is now available for download
OmniValue 4.0 takes financial analytics to a new level. Managing and analyzing your investments and savings have never been easier with the many features of OmniValue. Try the most advanced financial investment software in the market today!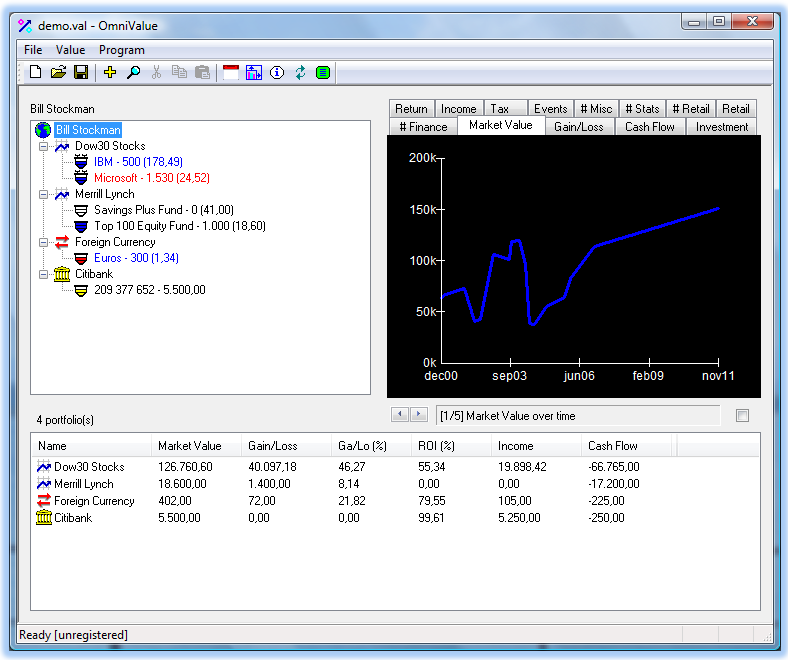 OmniValue™ is a general tool for managing and analyzing financial investments such as stocks, funds, bonds, bank accounts, currency, cash, and natural resources. OmniValue provides advanced portfolio management, web updates, tax calculation, and in depth analysis of financial metrics in an easy to use program.
# OmniValue makes it simple to manage all your investments, including bank savings and pension funds, in a single document. An OmniValue document is based on assets organized in portfolios. Data for assets are provided by defining transactions such as buy, sell, or a dividend. Transactions can either be entered manually in the OmniValue user interface or imported from external files provided by financial institutions or banks. Once transactions have been entered into the document financial metrics, both as numbers and as graphs, are automatically calculated at all levels of the document and provide you with a better understanding of the profitability of your investments.
# The use of reference sources makes it possible to update the current market value of your investments from sources on the web. Most stocks, funds, and bonds traded on major markets around the world can be connected to reference sources (web pages) on the Internet. It is also possible to use a local text file or a spread sheet as a reference source.
# OmniValue also helps you with your tax statement by providing reports for your tax - income return. OmniValue supports several standard methods of tax calculation including Average Cost and FIFO. OmniValue will automatically evaluate all enabled tax methods and select the method that minimizes the tax.
# OmniValue has built in support for the HTML format. This means that you can view an OmniValue document in a web browser and that you can publish reports on the web. The HTML format also makes it possible to open your document in other programs such as Microsoft Word or Microsoft Excel in order to create your own reports.
---
Version 4.0 includes the following new features:
OmniValue for Retail. New capability which makes OmniValue a powerful tool for sales analytics and inventory management for small to medium sized retail shops and Internet e-commerce sites. More information is available on the page for OmniValue Retail.
Extended support for import/export and configurable Impex scripts. The import/export functionality has been significantly improved to support easy and flexible import of data in different formats based on configurable Impex script files. Read more about importing and exporting of transaction data.
Improved support for references. References in the form of downloadable spreadsheets (csv files) on the Internet is now directly supported as reference sources.
Web report. New reports have been added including a list of sales transactions suitable for submission to tax authorities. A Print Page link is added to each page. New color scheme.
Accounting Period. The accounting period can now be set via the menu and the toolbar. New date time controls have been added for increased usability.
Plus many more improvements. Including major rework of the OmniValue GUI and data wizards to increase usability and further simplify input of data.
To learn more about OmniValue, you can read what our users say, look at screen shots or download the application.
---